It was already the second occasion this year that the Danish team from ClearView Trade met up with the Romanian development team. This time, five ClearView Trade employees visited our offices in Romania.
They spent two days sharing common experiences and working together. This has strengthened the relationship between the Danish team and the Romanian team and also optimized the way the two teams cooperate.
"It's very important to know the persons you're working with", says Christian Veseli Iversen, the Product Owner and Project Manager at ClearView Trade, adding: "We treat Wirtek team members here the same way we treat our own employees. They are operating as ClearView employees."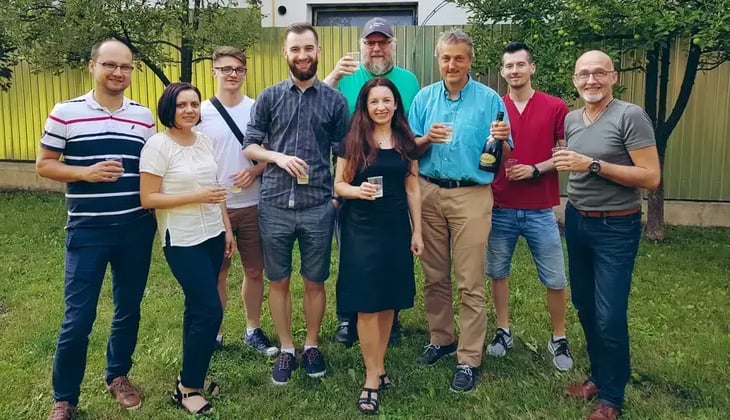 Planning the next sprint, presenting future plans and talking about creating a support platform for their customers were all part of the discussions. As their stay in Romania was coming to end, a nice bottle of champagne was opened to celebrate the new customers that ClearView Trade has recently added to their client base.
Both companies believe that nurturing strong connections between team members, even if they are in different locations, is the foundation of a successful long-term collaboration. Another two face-to-face meetings are planned this year, either in Romania or Denmark, to correlate the growth that ClearView Trade is experiencing with the expansion of the Wirtek customer team.
About Wirtek
Wirtek A/S, listed on NasdaqOMX, is a Danish consultancy services company with strong competencies in software development and testing services. We provide our customers with flexible services of high quality at competitive prices from our Development and Test Centers in Romania. Our competencies include web-based, mobile as well as embedded software solutions, quality assurance and product testing. Wirtek focuses on building long-term and win-win customer partnerships that create added value for our customers.
About ClearView Trade
In Clearview Trade we digitize international trade. We create fully digital end-to-end supply chains that integrate all relevant stakeholders connecting both the physical and digital worlds. Doing so, we minimize the time and resources spent on filling in trade documents, certificates, and customs declarations increasing both the speed and efficiency of international trade. In collaboration with The Danish Chamber of Commerce (DE), Confederation of Danish Industry (DI), Danish Agriculture & Food Council (L&F), SMEdenmark, and the Danish Tax Authorities we are already offering fully digitized Customs declarations and issuing of Certificates of Origin as well as Health Certificates. In ClearView Trade we simplify international trade and enable anyone to trade across borders.