Events and presentations
---
March 9, 2021
On Tuesday, 9 March, CEO Michael Aaen presented results for 2020 and the new

Accelerate25 growth strategy, followed by a Q&A session (in Danish).
Check out the video on Nordnet.
---
January 28, 2021
Our CEO Michael Aaen

answered written questions from young investors on the Danish Facebook group 'Unge Investorer' from 15:00 - 16:30 on Thursday, January 28.
Direct link to the relevant debate forum on the 'Unge Investorer' Facebook page: https://www.facebook.com/groups/ungeinvestorer/permalink/892442544825948
---
November 10, 2020
Dansk Aktionærforening (DAF) hosted the

InvestorUgen (Investor Week) event from November 10 - 14, 2020. Our CEO Michael Aaen presented Wirtek and the significant growth potential in IT outsourcing on November 10 at 14:45.
The presentation can be downloaded here.
View the investor presentation video:
---
Our CEO Michael Aaen was interviewed on the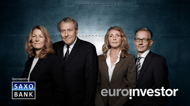 investor show "Millionærklubben" on October 13, 2020. On that day, the show focused on the "old" companies listed on the Nasdaq First North Growth Market in Copenhagen. As the third company listed in Denmark back in 2006, we definitely qualifiy as such. You can find the interview with our CEO here (approx. 18 minutes into the podcast - in Danish).
---