What is knowledge sharing?
The concept of knowledge sharing means passing information or skills among colleagues, and it is crucial to the functioning of a company, as it keeps employees involved in work projects and career development plans.
Collaboration and innovation are two of the benefits that may come as a result of knowledge sharing, so its value should not be neglected. Companies that value knowledge transfer methods, from managers to juniors and interns, use a variety of ways to implement this concept.
Culture and Working Life at Wirtek
Wirtek is an organization guided by its values and believes in encouraging employee development. This is reflected in the fact that we have set up a knowledge-sharing network to ensure an optimal exchange of expertise. Employees get together to share information on particular subjects and to discuss experiences, solutions, specific challenges, or anything of relevance in the exchange of knowledge.
Over the past few months our team had the opportunity to work on improving a variety of skills by attending internal workshops like the "IoT & Machine Learning Workshop" with Gyalai András, "Containers, the Orchestration Framework & IAC Workshop", the "Implementing Clean Architecture Training" with Florin Coros, the "Networking Workshop" with Claudiu Brasovean, or the "QA Automation Workshop" with Laura Andreescu.
These events have benefits for both sides, for the trainees, as well as for the trainer. As Laura Andreescu said, it creates the premises to embrace your public speaking anxiety and learn to cope with it.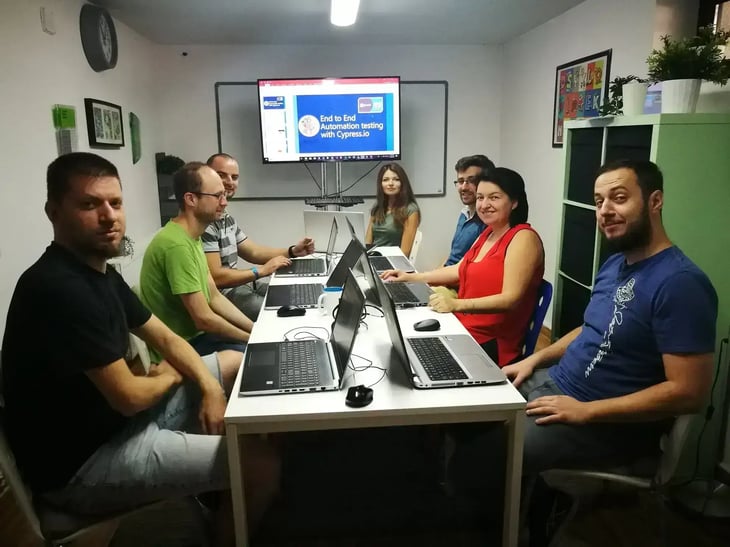 Knowledge sharing practices
In order to ensure more employees become specialists in their field, a company needs to put employee development into a system:
Build a workplace where ongoing competence development is an essential part of the culture.

Make it a priority for all employees to come up with ideas about organizing training sessions and workshops, and let them know this is part of their responsibility just like any other task.

Invest in a long-term strategy developing a benefits plan to encourage employees to prepare training sessions.

Develop an online knowledge library, easily accessible to all teammates, to maintain the knowledge and make use of it in the future.
The benefits of knowledge sharing for businesses
Learning from others and also sharing your knowledge can facilitate teams to learn from past mistakes and maintain their competitive edge in the market by keeping up with the new industry trends.

Enabling a well-structured system for your employees to share knowledge can stimulate them to deliver better, more innovative and creative solutions.

Establishing a constant learning and growing culture can attract and retain top talent.

Knowledge sharing training sessions facilitate employees in distributing their valuable expertise and experiences to other co-workers, cutting down your business time and costs of having the teams professionally trained.
Continuous learning
Continuous learning is built into Wirtek's DNA as it is ingrained into our organizational culture. In our community's mind, one of the long-term benefits of working for Wirtek is the value of improving your performance by constantly learning from each other.
To the customer, this provides a competitive advantage, as we not only manage to attract but also retain the best talent by constantly investing time in further expanding our team's skill-set in response to a changing environment. Additionally, an in-house knowledge library could provide the client with a series of playbooks specific-to-each-issue that can help overcome any obstacles on the way.
Success factors of proper information sharing in the workplace include stimulating the community to get involved and making sure the helpful information is stored and easy to access.