Denmark is famous for quite a few things. The world's top livable city (Copenhagen), the country with the best digital quality of life in the world, home to some of the happiest people, the country that gave us Lego, and yes, its Viking heritage.
But Denmark and its capital, Copenhagen, are also emerging as technology and startup hubs. While places such as the US, the UK, or Canada are well-established tech scenes, Denmark is a contender that deserves just as much attention.
What makes Denmark a thriving startup scene & digital hub?

From having the most IoT sensors per capita in the world, the leading country in e-government development, to some of the most exciting tech startups, the country seems to have a few aces up its sleeve. What are the factors that are turning Denmark into a tech powerhouse, and what are some of the threats hindering the tech sector's development?
Growing technology and startup hub
Denmark is one of the most digitized economies in the EU, with an excellent IT infrastructure and a tech-savvy population. The country ranks second in the EU when it comes to digital competitiveness, according to EU Digital Economy and Society Index, following Finland closely.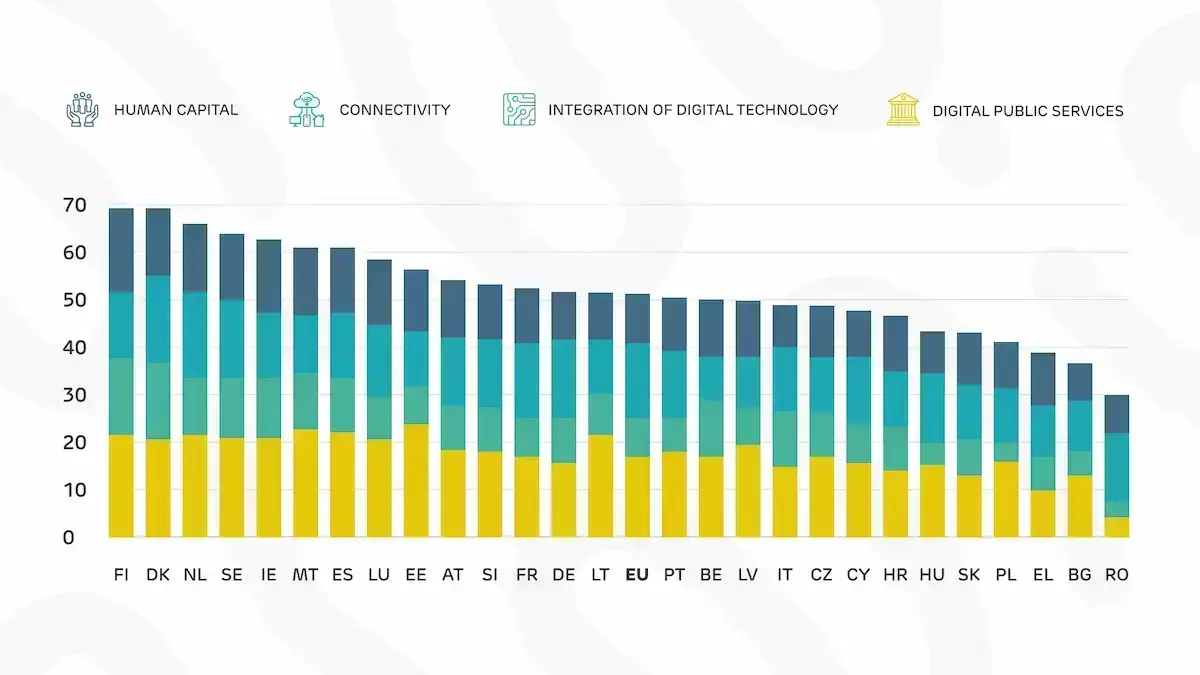 Image description: snapshot from The Digital Economy and Society Index (DESI) 2022

Furthermore, Denmark is the 3rd most innovative EU member state according to the European Commission and placed 10th in the Global Innovation Index 2022, a study ranking the
innovation performance of 132 economies.

Danish software companies are expected to drive revenue of $4.18 billion in 2022, as estimated by Statista.

Within the technology / ICT sector, there are a few specific areas in which Denmark stands out:


audio and sound technology: Denmark is a global leader in the audio and sound technology industries, with many internationally recognized brands such as Bang&Olufsen, Brüel & Kjær, and Oticon
robotics: the country prides itself on the prime robots and drone testing centers, hosting full-scale test facilities for drone and robot applications in healthcare, agriculture, or production
wireless and mobile technology: a wireless cluster with competencies in mobile technology: LTE/LTE Advanced, Bluetooth, Internet of Things (IoT), location-based services, antennas and sound, MIMO, machine learning, blockchain, and ultra-reliable connectivity for mission-critical systems according to The Danish Minister of Foreign Affairs
software development: tech giants such as IBM, Microsoft, and SAP have chosen Denmark to established innovation and development centers/hubs in Denmark
security and encryption
business solution development: some successful Danish tech companies: Zendesk, Unity Technologies, Tradeshift, Podio, Siteimprove, and Trustpilot. Seven percent of global tech exits with a unicorn valuation originate in the Nordic countries
eGovernment solutions: Denmark has pursued an ambitious agenda for digitizing its public sector, and in 2022, it leads the top of the United Nations' e-Government rankings. Furthermore, the public sector is the largest consumer of IT services and accounts for 25-30% of total spending
Cleantech is an emerging sector in Denmark: environment-related technologies accounted for 24% of Danish patents in 2018, which is the highest share in the OECD
Why is Denmark such a thriving startup scene & digital hub?
Government investment and support
Becoming a digital nation
Back in 2018, the Danish government launched the 'Digital Growth Strategy', a program aimed at establishing Denmark as a digital hub. The government recognized that if Denmark can create the right conditions for Danish companies to utilize the newest technologies, every Dane and the nation as a whole can gain from the digital transformation.
The strategy consists of 38 initiatives, which are allocated a total of 134 million EUR from 2018 to 2025 and 10 million EUR onwards per year.
Digital Growth Strategy is grouped into seven key initiatives:
Digital Hub Denmark

– a partnership between the public and private sectors to facilitate Digital Hub Denmark – a private-public partnership working to promote Denmark as the best place to work in, start a business, and invest in
Digital enhancement of SMEs – supporting small and medium-sized enterprises toward digitalization
The Danish Technology Pact – initiatives aimed at strengthening the technical and digital skills of Danish people
Strengthened computational thinking in elementary school – make technological understanding a mandatory subject in primary and lower secondary education.
Data as a driver of growth – facilitate businesses' access to useful public data to provide a catalyst for growth.
Agile regulation for new business models – more agile regulation will allow businesses to experiment with new business models.
Strengthened cybersecurity in companies – improve cyber and information security in small and medium-sized enterprises.
Extensive support for tech startups
The goal of Digital Hub Denmark is to develop the country as a digital frontrunner by attracting talents, investors, and customers to startups.
Digital Hub Denmark developed and implemented a national business-promoting governance model for digital tech startups. It is driven by Denmark's seven leading digital technology ecosystems: FinTech, HealthTech, Robotics, CreaTech, PropTech, AgriTech, and EdTech.
Making AI a priority
In March 2019, the Danish government launched the National Strategy for Artificial Intelligence (NSAI). The vision is to make Denmark a leader in the use and development of AI technologies and to empower companies to use AI to gain a competitive advantage.
To support the NSAI implementation, the government is set out to invest 200 mil EURO in digital and artificial intelligence (AI) research and pilot projects.

These investments seem to pay off, as a study by the largest private AI lab in the Nordics, Silo AI, shows that 24 % of all Danish companies use AI, making the country a frontrunner.

Number 1 in Europe for ease of doing business
In the World Bank Doing Business Report 2020, Denmark placed 1st for the ease of doing business in Europe and 4th worldwide (the study has been discontinued since).
The report looks at dimensions of the regulatory environment, such as legislation for starting a business, getting credit, paying taxes, resolving insolvency, and labor market regulation, among others.

Additionally, Denmark has ranked 1st in Transparency International's study of perceived corruption (CPI) in public sectors worldwide since 2016. With a score of 88 out of 100 in 2021, Denmark's public administration is perceived as clean and non-corrupt.
The public sector is recognized for its low level of bureaucracy and for its commitment to limiting administrative burdens on businesses.
A favorable tax climate
The corporate tax in Denmark is 22% which is close to the average OECD and European levels.
R&D is encouraged through tax incentives: the government offers a full deduction of patents and know-how in the year of acquisition and the possibility to deduct R&D expenses.
Companies with R&D costs resulting in losses are entitled to a cash reimbursement of 22% of the losses relating to R&D costs, capped at DKK 25 million (approx 3.3 million EUR).


Track record of innovation
The development of the technology and software sector in Denmark is not arbitrary, as the Danes have a proven track record of innovation within the technology and digital field.
Some popular programming languages were developed by Danish engineers:
Bjarne Stroustrup developed C++
Anders Hejlsberg was the original author of Turbo Pascal and the chief architect of Delphi
Rasmus Lerdorf co-authored the PHP scripting language
Peter Naur contributed to creating the language ALGOL 60
David Heinemeier Hansson created the popular Ruby on Rails web development framework

Denmark is also home to world-class software development talent - especially within the fields of security and cryptography, algorithms, AI/ML, wireless network solutions, eGovernment solutions, acoustics software, and robotics.
Other technology achievements include advances in quantum computing (Denmark actively invests in research, allocating US$48.9m for Danish National Research Foundation research centers), nanoscale engineering, and linear optics.
What can hinder Danish technology companies' development?
With such an ambitious public digital agenda and push for the adoption of the newest technologies, there is one challenge that Danish technology companies need to figure out: the current shortage of IT and digital skills and specialists.

Denmark faces a future scarcity of an estimated 19,000 ICT specialists by 2030 (Højbjerre Brauer Schultz, 2016). Another projection estimates a need for 6,500 engineers and 3,500 science graduates by as early as 2025 (Engineer the Future, 2018).

The Information & Communication sector is the 3rd most affected sector by recruitment challenges, in Denmark, according to a survey conducted by The Agency for Labor Market and Recruitment.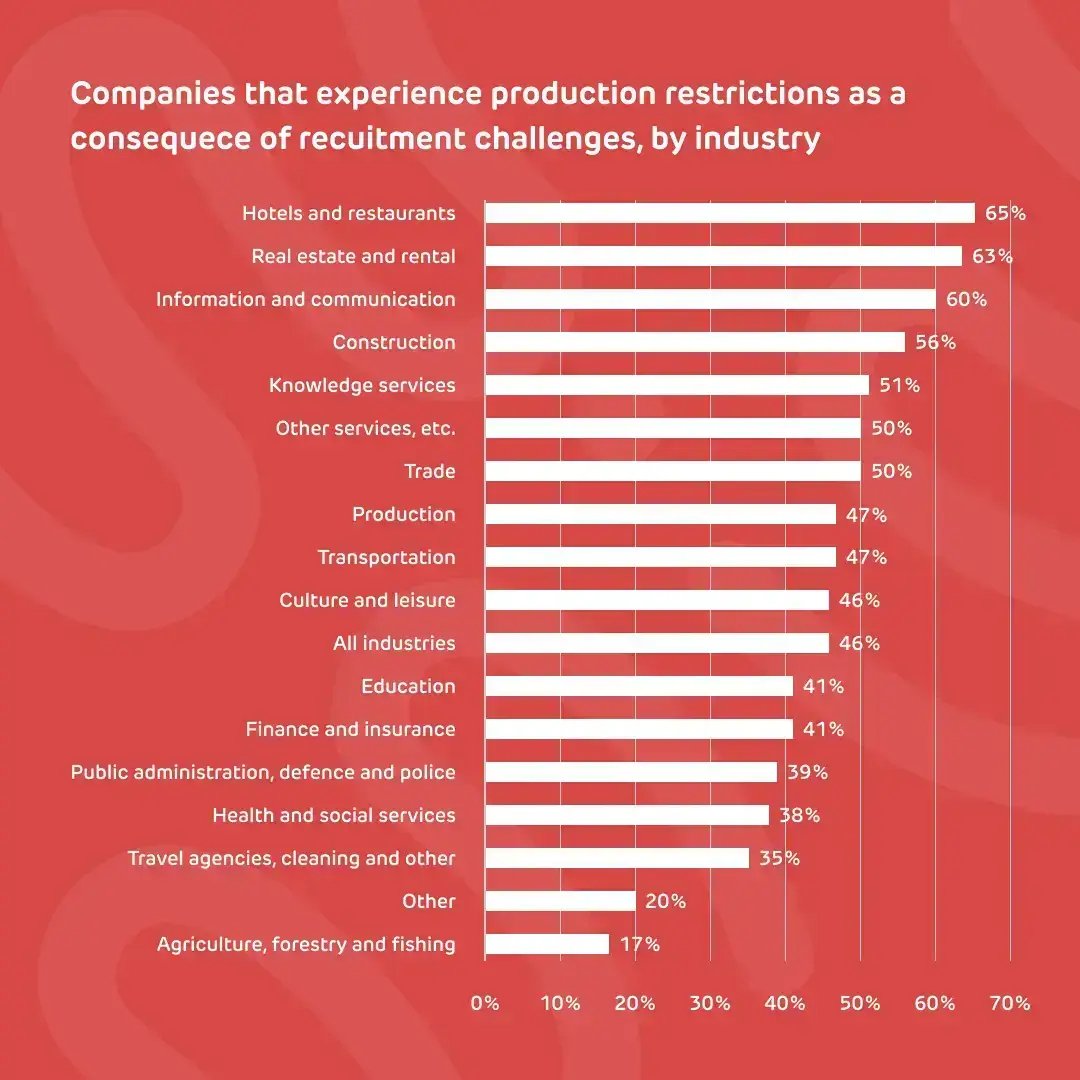 Image description: snapshot from the survey conducted by The Agency for Labor Market and Recruitment
At the same time, the number of STEM (science, technology, engineering, and math) graduates remains low amid progress (22.54% in 2021 compared to 20.98% in 2019), according to IDM's World talent Ranking 2021.


Conclusions
The technology sector is an essential engine for growth and development in Denmark. Benefiting from government support, long-term strategic plans, and a thriving business environment, technology companies in Denmark seem to have all the needed ingredients to turn into success stories.

But finding the right talent at the right time is a challenge that can hurt the Information & Communication Technology sector as a whole and affect startups and small and medium-sized companies in particular.